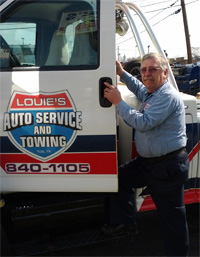 Louie, Louie's Owner and namesake, began working with cars when he was in high school, taking a position at the Lincoln Highway Garage. He began working at the Seitz Garage in 1970 as a tow operator and mechanic's helper. Louie also worked for Bud's Mobil Service, Preston Fiat, Sterner Chevrolet, Chrysler, Ammon R Smith, and Shaul Oldsmobile between 1971 and 1988. Louie established Louie's Auto Service on September 26, 1988 as a 2-bay repair shop at the Haines Acres Mobil. He bought his first tow truck in 1990 and added a rollback in 1992. Louie moved his shop to its current location on Industrial Highway in November 1993 because the 3-bay shop offered needed space. In 2004, Louie's Auto Service acquired Gurreri Towing, allowing Louie the opportunity to expand his services again. 
Louie has two daughters, Michelle and Kelly.
Education:
York High, 1969
Wreckmaster Certified, ASE Master, Trained by General Motors
Organizations:
Member and former president/vice president of York County Garagemens' Association, Member of Alliance of Automotive Service Providers of PA, Member and Board Director of Pennsylvania Towing Association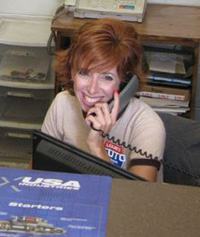 Michelle, the Office Manager, has been working with her father at Louie's since 1997. Michelle, a graduate of Empire Beauty School, worked in various hair and nail salons until she joined the Louie's staff. Michelle enjoys riding on the back of her husband Larry's Harley, even though she has her own chopper, and spending time with her husband, kids, family, and friends. She is the mother of two boys, Steven and Brent, and step-daughter Samantha. She has the distinction of being the first female elected to the Board of Directors for the York County Garagemens' Association.
Education:
Delone Catholic High School, 1989; Empire Beauty School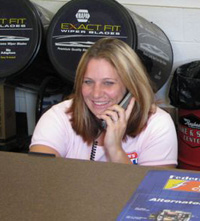 Carrie joined the Louie's family in September of 2005, where she works with Accounts Receivable/Payable. She is married to Mike, and they have three children- two daughters, Hunter and Keely, and a son named Jayce. Carrie enjoys camping, reading, and watching her kids play sports, including fast-pitch softball, football, and basketball.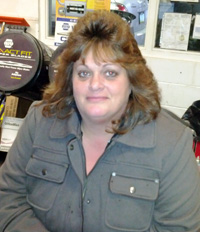 Denise has been with Louie's since January of 2010, and she runs the Wheatfield Street towing location. She has been married to her husband, Charlie, for 17 years, and they have two children together, Andrew and Katie. Denise enjoys riding with her husband on his motorcycle, camping with her family, and hunting in Potter County.
Education:
Northeastern High School, 1986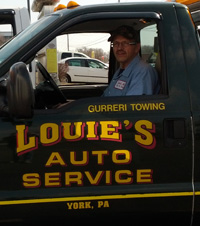 George has been a tow truck operator for Louie's since 2004. He started towing in the late 1980s for Ed's Service Center and worked for them for 5 years before working at Gurreri Motors for 13 ½ years. George has gotten called for tow jobs in a number of interesting places including Vermont, North Carolina, Virginia, West Virginia, Maine, New York, New Jersey, Delaware, and even Chicago. He is a life member of Red Lion Fire Company and served as the chief in the past. George enjoys riding his motorcycle and camping.
Education:
Red Lion Area Senior High School, 1982
Wreckmaster Certified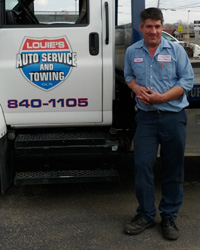 Butch has been a tow truck operator at Louie's since 2005. He worked at Beasley Ford in the body shop and as a tow truck operator for 12 years before coming to Louie's. Butch is married, and his hobbies include league bowling, racing go-carts, and mountain biking. He also enjoys roller skating, line dancing, and everyone who knows Butch knows that he loves cheeseburgers and ice cream.
Education:
York Vo Tech, 1988
Wreckmaster Certified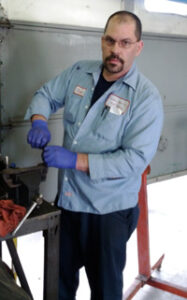 Scott has worked for Louie's since 2008, and has been a tech and tow truck operator at various garages since the late 1980s. In his spare time, Scott enjoys hunting, fishing, and spending time with Katelyn and Kenna, his two beautiful granddaughters. He likes animals, mostly larger dogs. Scott also enjoys drag racing his 1990 Dodge Daytona with a full tube chassis that he built himself. A resident of Yoe since 1992, Scott is a life member of Yoe Fire Company and held various positions over his active years. Scott also likes working on older muscle cars, especially Mopars.
Wreckmaster Certified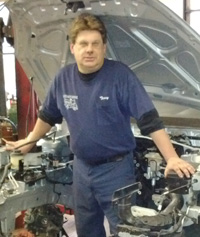 Terry has been part of the Louie's team since 2005. Prior to that time, he worked at Sunoco Service in Mechanicsburg from 1984-85, Shaull Oldsmobile from 1985-90, Midas Muffler from 1990-91, Kalhass Tire from 1991-93, Trones Sunoco from 1993-2000, Pennick Automotive from 2001-03, and LJ Allen Tire from 2003-05. He has been with his wife for 18 years and lives in West York. Terry has two step-children and nine grandchildren, whom he enjoys spending time with. His hobbies are old cars, show cars, and drag racing, and he owns a 1964 Impala 409 and a 1965 Oldsmobile 442 drag car.
Education:
Cumberland Perry Vo Tech (Auto Mechanics), 1984
ASE Certification through GM
Organizations:
Motor Menders Auto Club, Keystone Garage Club, and EMMR Museum